About Us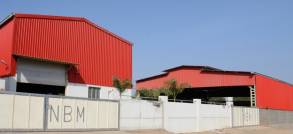 NBM Industries is very well equipped manufacturers of PVC Insulated Busbar System (DSL), C-rail (Festooning) System & Forming Products in Rajkot based established in 2005, and is engaged in the development and production of Vertical mounting & Horizontal mounting PVC Insulated Busbar System for finger safe, Festooning System & Forming Products which are used for cranes, mono rails & moving machineries. Most of our Esteemed Customers are Original Users. With the available facilities, NBM Industries can manufacture the PVC Insulated Busbar (DSL) System and Forming Products ranging from 60 to 125 Amp. In Galvanized Steel, 200 to 800 Amp in Aluminum & 125 to 800 Amp. In Copper model under stringent quality control at every stage.
NBM Industries possible to support current production technology and improve manufacturing processes which are critical to meet the demands of tomorrow.
Presently, we are engaged in the manufacturing, development and production of PVC Insulated Busbar System, C-rail Festooning System & Forming Products as per the customer's Requirements and specifications. We also accept orders for products of special Length and designs of Customer's requirement.
Our purpose is to ensure total customer satisfaction through development, manufacturing and delivery of world class products which are reliable and technologically advanced at competitive prices. we will achieve this by cost effective operations through a team of relevant field experienced Partner, trained, dedicated and skilled team of employees and all suppliers who are as good as part of our organization.